Structures (Pergolas)
Overview
Pearl Landscaping & Stone custom builds all Arbors & Pergolas. Today's homes are using pergolas as a way to expand their living space–an outdoor room with stately columns and inviting furniture. You can create the perfect outdoor living space (room) and enhance your garden area by simply adding a pergola.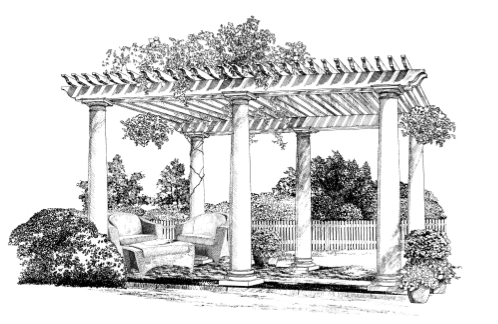 Pergolas serve as a backdrop to the seasonal progresion of flowers. As a visible architectural component of the landscape, the pergola serves as a gateway to the garden beyond. And, it is an easy way to add more living space to your home that you will use for years to come.
A well-placed pergola is more than a focal point; it is the hub of activity in your yard or garden–a place where people relax, dine or play. Furnish it with attention to details, such as candles and cushions that will make it a pleasant place to while away the hours. Contact Pearl Landscaping & Stone for your next pergola project.