Our Services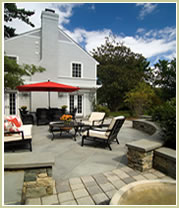 OVERVIEW
Pearl Landscaping & Patio is a full-service landscaping company. Pearl offers comprehensive residential & commercial landscape services which include Landscape design & installation, Patios & Retaining walls,Property Maintenance Services, seasonal color design & installation, Landscape Lighting, and many more services.
Patios & Retaining Walls
Landscape Design / Installation
Outdoor Living
Shrub & Tree Installation
Fireplaces & Fire pits
Gardens, Beds and Planting Berms
Outdoor Lighting / Audio
Outdoor Rooms
Wood Structures
Ponds & Water Features
Yard Grading
Lawn Installation
Are you experiencing any drainage issues? At Pearl Landscaping & Stone, we do everything from re-grading lawns, installing French drains, connecting down spouts to underground drainage systems. We have the experience and man power to take on your toughest drainage problems.
For questions regarding additional services please contact us.